Spring may be my favorite season of all. I love the mild weather and watching the trees and flowers come back to life. When it comes to all things fashion, the color palettes of spring clothing can't be beat in my mind. Give me all the pastels and floral prints please. With spring being the start of the wedding season I decided to round up some feminine spring wedding guest dresses all under $100.
This post contains affiliate links. If you purchase something through one of these links I earn a small commission at no additional cost to you!
Silky Dresses
A silky dress makes me feel instantly dressed up. I love the softer cowl necklines and how the fabric drapes so nicely. If you have more of a black-tie wedding to attend any of these dresses would be perfect. Because of the clingy nature of the fabric I would advise wearing shapewear or a slip to help keep everything smooth.
This Tracy midi slip dress from BuddyLove would be perfect for any wedding you have this year. The hot pink color is so bright and fun. I love the midi length and the fact that it has adjustable straps. It comes in 4 colors so if pink is not your thing you have plenty of options. It's the perfect pairing of feminine and fashionable for any wedding.
Maxi Dresses
A maxi dress is a classic wedding guest option. They look so elegant and are appropriate for any type of wedding. I prefer a maxi with a slit so that I am free to move around the dance floor all night. I love the ruffle details of this maxi dress and the halter neck of this dress is so flattering.
Floral Dresses
It wouldn't be spring without florals, I know groundbreaking. I was totally in awe of how amazing Olivia Wilde looked recently in a floral maxi dress for a wedding she attended. I love a good floral print any time of the year but especially for a wedding guest dress. I tend to be conservative with my floral prints and try to stay away from anything with a white base. The long sleeves and ruffle details of this dress are so pretty. I love the longer midi length of this floral dress to make dancing a breeze.
I love this shorter length floral dress. It would be great for a wedding as well as any other spring event you have this year. Think baby shower, bridal shower, or birthday!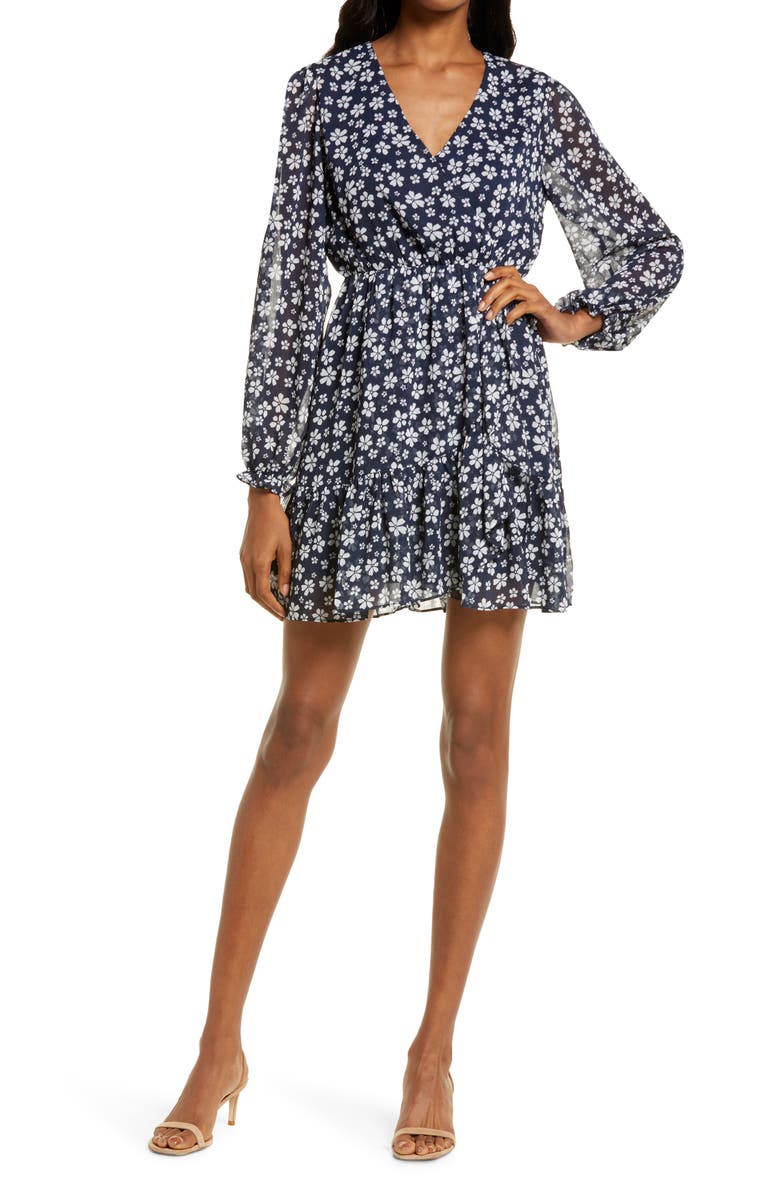 Midi Dresses
Spring is still somewhat chilly, at least where I live. The idea of a midi skirt that gives some more coverage is appealing. I also like the longer length so you can dance your heart out without worrying about accidentally flashing anyone! This pink lace dress is so gorgeous and a classic option for a wedding guest dress.
Are you attending any spring weddings this year? If you're looking for more wedding guest style inspiration check out this post all about fall wedding guest dresses. Bring some sparkle to any wedding with some sequins, I styled sequins three ways here Don't forget to sign up for my weekly newsletter for exclusive content.